West Hamilton | Central Hamilton  |  East Hamilton | Hamilton Mountain
Download Your FREE Guide To Hamilton Ontario
In it, you will find lots of in-depth information about Hamilton Districts and Neighbourhoods, including maps outlining each area, average sales prices for each district and tons of local pictures. Receive your FREE Copy at GuideToHamiltonOntario.com
---
Hamilton is one of Ontario's most economically diverse cities, with sectors including health services, education, advanced manufacturing, agriculture business and food processing, creative industries, clean technology, life sciences, transportation and goods movement. Greater Hamilton belongs to the geographical area known as the Niagara Escarpment: a feature that stretches some 700 kilometres from Niagara Falls to Tobermory. As well, Hamilton Wentworth has earned a reputation for being a "Green" Region.
MoneySense Magazine created a report that listed the top 35 cities in Canada to buy Real Estate in 2020. Hamilton Ontario came in at number 7. MoneySense gathers this data from Stats Canada and Canada Mortgage and Housing Corporation (known as CMHC). House Prices, Average Income, and Unemployment are three of the factors taken into consideration.
Hamilton's commitment to growth is evident in the major redevelopment investment coming to the city's waterfront. This multi-million dollar transformation will include new open spaces, shops, restaurants and recreational and cultural activities. Pier 4 Park will get a revitalization including an enhanced walkway to the shoreline so visitors can more easily enjoy fishing, canoeing, kayaking and windsurfing. Mixed-use condominium developments are also in the plans and will include fitness centres, restaurants, parks and shops. New docks will be provided at the marina. Accessibility to the harbour will be addressed by adding more streets to the area.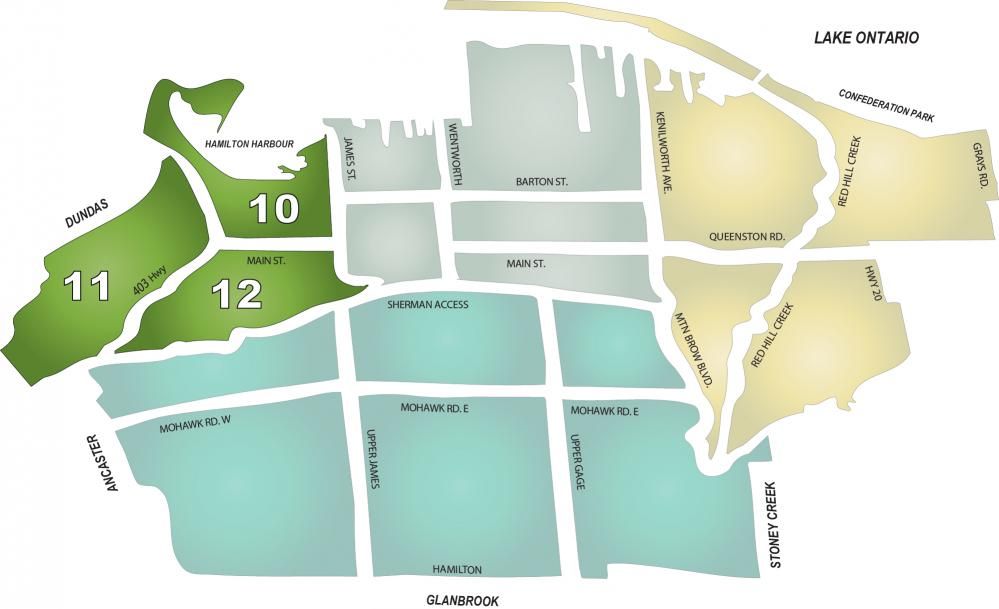 West Hamilton
District 10 | Strathcona, Bayfront, Central
District 11 | Westdale, Ainslie Wood
District 12 | Kirkendall West, South, & East, Durand
This area is Best Known for Dundurn Castle, Westdale Village, Hess Village, Locke Street Shopping (Antiques, great eats, and lots of other unique stores), Bayfront Park and Waterfront trails, Princess Point and soon to be well known for our newest restaurant with the best view of the Lake, Sarcoa Restaurant & Bar, located in the old Discovery Centre near the Royal Hamilton Yacht Club.
For more info on West Hamilton including maps, average sale prices, pictures, etc. Click Here!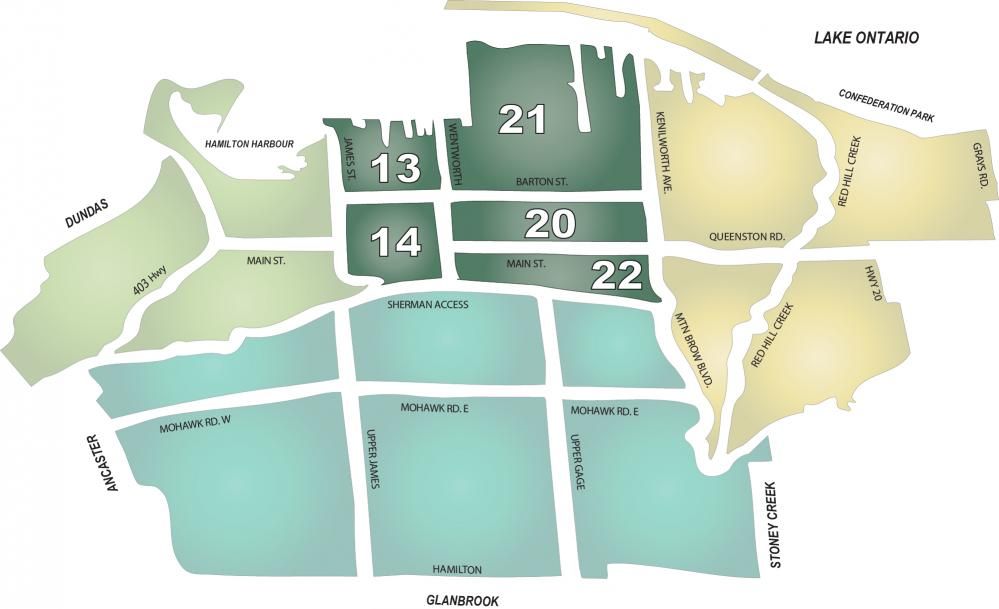 Central Hamilton
District 13 | Northend | Keith
District 14 | Beasley | Landsdale | Corktown | Stinson
District 20 | Gibson | Stiply | Crownpoint South
District 21 | North Sherman | Crownpoint North
District 22 | St. Clair | Blakely | Gage Park | The Delta
This area is Best Known for the Hamilton Farmers' Market, GO Train and GO Bus Terminal, Copps Coliseum (which has been home to U2, Aerosmith, Rush, Bruce Springsteen, Elton John and the Juno Awards have been held at the venue numerous times), Art Gallery of Hamilton, the James Street North Art Crawl, Theatre Aquarius, and St. Josephs Hospital.
For more info on Central Hamilton including maps, average sale prices, pictures, etc. Click Here!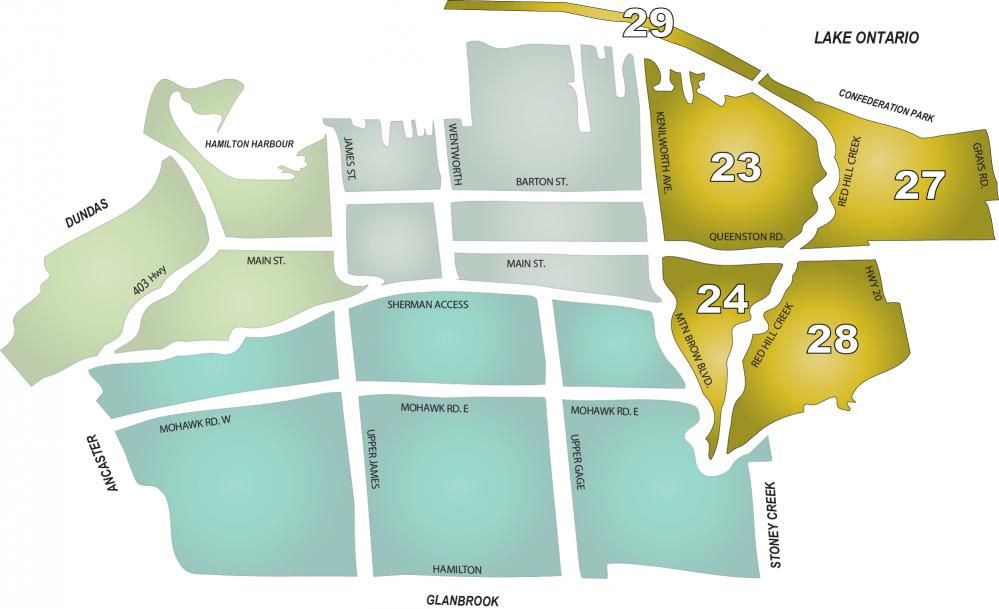 East Hamilton
District 23 | Parkview | Homeside | Normanhurst | McQuesten
District 24 | Bartonville |Glenville | Rosedale
District 27 | Nashdale | Lake Grayside | Kentley | Riverdale
District 28 | Red Hill | Corman | Gershome | Greenfield | Vincent
This area is best Known for the newly built Centre Mall Power Centre, Eastgate Mall, Confederation Park, Wild Waterworks, Hamilton General Hospital, Red Hill Valley Parkway, Glendale Golf and Country Club, Kings Forest Golf Course, and one of over 100 fabulous Waterfalls, the Mount Albion Falls.
For more info on East Hamilton including maps, average sale prices, pictures, etc. Click Here!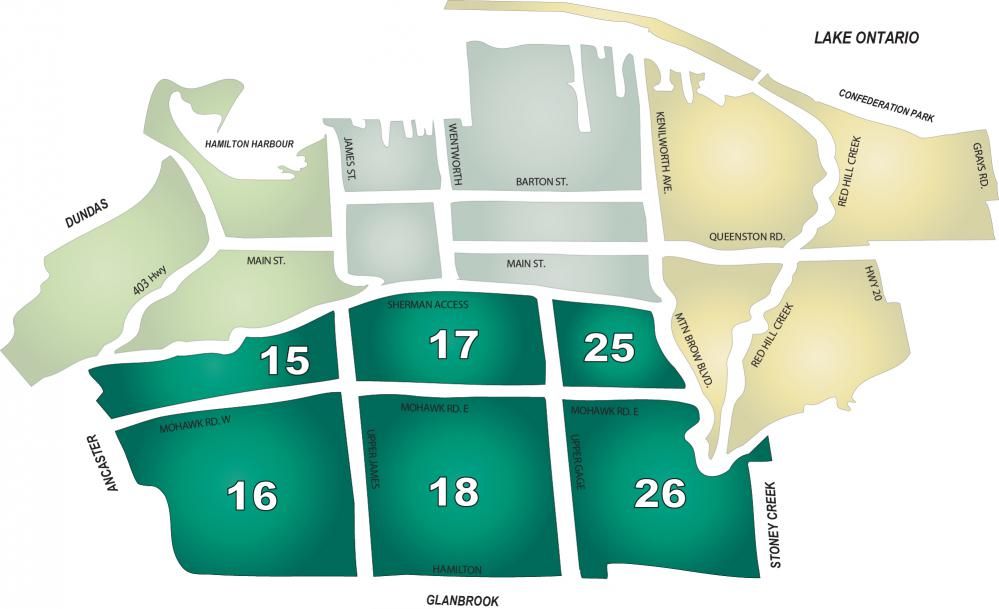 Hamilton Mountain
District 15 | Mountview | Westccliffe| Buchanan | Mowhawk | Bonnington | Southan
District 16 | Gurnett | Gilkson | Gourley | Kerninghan | Mewburn | Falkirk | Sheldon | Carpenter | Kennedy
District 17 | Centremont | Balfour | Inch Park | Hill Park | Eastmont | Raleigh | Birkhome | Macassa
District 18 | Greeningdon | Bruleville | Therner | Lawfield | Jerome | Crerar | Rushdale | Randall | Rykmans Corners | Barnstown | Butler | Eleanor | Allison | Broughton West
District 25 | Sunninghill | Sherwood | Hampton Heights | Huntington
District 26 | Berrissfield | Lisgar | Quinndale | Trenholme | Templemead | Rymal | Hannon | Broughton East
For more info on Hamilton Mountain including maps, average sale prices, pictures, etc. Click Here!
Here Are a Few GREAT Reasons to Move In or Around Hamilton!
SCHOOLS

We are home to one of the best Universities in Canada! McMaster University is located in West Hamilton. On the mountain, you'll find Mohawk College of Applied Arts and Technology. Next door to Mohawk College is a well respected private school – Hillfield Strathallan. You will also find a great selection if you are looking for French Immersion, Public schools or Catholic schools.

LEISURE | NATURE | SPORTS | ARTS

Lots of fun things to do include: The Art Gallery of Hamilton, Adventure Village, Wild Waterworks at Confederation Park, year-round gardens at the Royal Botanical Gardens. The conservation areas have something for everyone: hiking, camping, fishing, boating, cycling, swimming, picnicking, disc golf, go-carts, paintball, laser tag, ball hockey, ice hockey, indoor soccer and football, open fields, deep forests, movie theatres and more! Did You KNOW…there are over 100 cascades & waterfalls in Hamilton. Check these links for more info on the Conservation area and the Bruce Trail,  Royal Hamilton Yacht Club, Hamilton Golf & Country Club (Home to the Canadian Open) and check out our many other great golf courses! For a special night out come see the Hamilton Philharmonic Orchestra or one of the wonderful plays at Theatre Aquarius.

DINING

From Asian to Bakery, to Gourmet Food Trucks to European Cusine to Casual & Fine Dining to Vegetarian, Click Here for a list of all of what you'll find in the area!

SHOPPING

Locke Street, Ottawa Street, Limeridge Mall, Eastgate Square, Centre Mall, Jackson Square & The Farmers Market, speciality shops like Goodness Me, Denningers, two Walmart Superstores, Zarkys, and more. You name it, We Got It!
Hamilton Current MLS® Real Estate for Sale