Hamilton Area Statistics for Marc 2022
Here's What Happened This Month!
The March 2022 Real Estate Market Selling strategies remain the same as the last few months month in most part, however, with more and more inventory coming on the market, as is usual for the Spring Market, this is changing. Some Sellers are still putting their homes on the market at a listing price well below Market Value and "holding" offers for up to a week in order to get multiple offers and sell for much higher than their List Price. If they do not get the expected price they were hoping for, they are re-listing at price point much higher, and closer to what they are hoping to sell for. Others are putting their property up for sale at or near Market Value, and not holding offers till a specified date. This can be extremely confusing for Buyers so please make sure you are getting insightful timely advice from your LOCAL REALTOR®. Ask your REALTOR® for a chart of very recent sales comparing the List Price to the Selling Price AND find out how many days the property has been on the market!
March 2022 had 2369 Total Residential Listings come through the Hamilton Real Estate Board as reported by The REALTORS ® Association of Hamilton-Burlington (RAHB). Hamilton had 1525 of those (down from 1706 in 2021) and Burlington's share was 563, down slightly from 597 in March last year. Overall New Listings increased by 51.7% since last month but were down 6.2% over March 2021.
Residential Sales located throughout the RAHB market area (including Burlington and all the outlying areas covered by The REALTORS ® Association of Hamilton-Burlington) of 1637 Properties are down 21.1% from March 2021 and up 33.3% over last month, February 2022. The overall average price for residential properties is still over a million dollars, however, it decreased by 2.7% from last month to $1,073,342, and is up 22.8% from March 2021. Hamilton's Residential Sales (including Flamborough, Dundas, Ancaster, Waterdown, Stoney Creek and Glanbrook) were 984, down 24.5% from 1303 in March 2021, with an average price of $1,003,193 up 24.6% from the same month last year. Burlington had 359 Sales which is down 20% from 449 last year, with an average price of $1,305,593 which is up 19.8% from March 2021.
The end-of-month listing inventory which is a good indication of the type of market currently being experienced has continued to climb from last month and sits at 674 Active Residential Listings giving Hamilton still a limited 0.7 months (half a month) of inventory, down 2.7% from March 2021. Burlington also went up from last month and now has 226 Active Residential Listings which still only gives it 0.6 months of inventory, which is down 6.2% from the same time last year. Overall, the number of Active Listings Available at the end of the month is still very low at 0.7 months. The average days on the market continue to drop and went from 11.9 to 9.1 in Hamilton and also went down in Burlington year over year from 9.1 to 8.3. This is still largely due to the List Below Market Value Strategy being used by many Sellers and their Real Estate Agents, so don't be fooled by a price that looks too good to be true! Sellers are listing less than market value, and holding off taking offers for up to a week, therefore creating a bidding war atmosphere and hopefully getting many offers and selling for much higher than the asking price. This can be hundreds of thousands over the List Price, so make sure you talk to your REALTOR® and try to get a better idea of what the Actual Market Value currently is.
Right now the Hamilton-Burlington Area is still experiencing a Sellers Market, where the ratio of Homes Sold to Homes Listed is above 60%, currently sitting at 69%. In other words, 7.9 homes are sold for every 10 new listings. Take note this has gone from 86.8% in January to 79% in February and is now 69%. This is indicative of a change toward a more Balanced Market, and other than the last couple of years, this is generally what happens at this time of year.
Buyers Market Below 40%
Balanced Market Between 40% and 60%
Sellers Market Above 60%
(Ratio of homes sold to homes listed)
Sign up now to receive the Hamilton MarketWATCH Weekly Newsletter so you can stay up to date on the Local Real Estate Market.
See houses, condominiums and townhomes For Sale, in every price range, throughout Hamilton, Dundas, Ancaster, Stoney Creek and Glanbrook by email every Tuesday!
Send Me Listings!
If you are thinking about Buying in the next 6 months you need to know as soon as a listing hits the market. Get notified every day about every listing that matches your criteria.
Be one of the very first to have access to properties that match what you are looking for directly to your email as soon as they come on the market.
Setup My Search!
Find out what homes just like yours are selling for, in today's market. Get a Customized Report with up-to-the-minute statistics and actual selling prices of properties that have sold near you in the last 30 days.
Sign up to start receiving your monthly mailed report. Available for Hamilton, Dundas, Ancaster, Stoney Creek or Glanbrook.
Mail My Report!
Year To Date Average Prices for Hamilton
The map below shows the current Year to Date Average Residential Prices. Some of the areas not included in the map are to the right:
When looking at the Average Prices in and around Hamilton, it is important to note how they have changed significantly over the last year and even now from month to month. If you are thinking of selling your house or condominium, get the most up to date, LOCAL information. A Market Evaluation and/or a Mortgage Pre-Approval done even a couple of months ago MUST be updated!
Burlington – $1,375,030 – Down
Flambourgh – $1,678,219 – Up
Waterdown – $1,165,582 – Up
Grimsby – $1,043,902 – Up
Caledonia – $972,195 – Up
Cayuga – $1,086,618 – Down
Dunnville – $780,105 – Down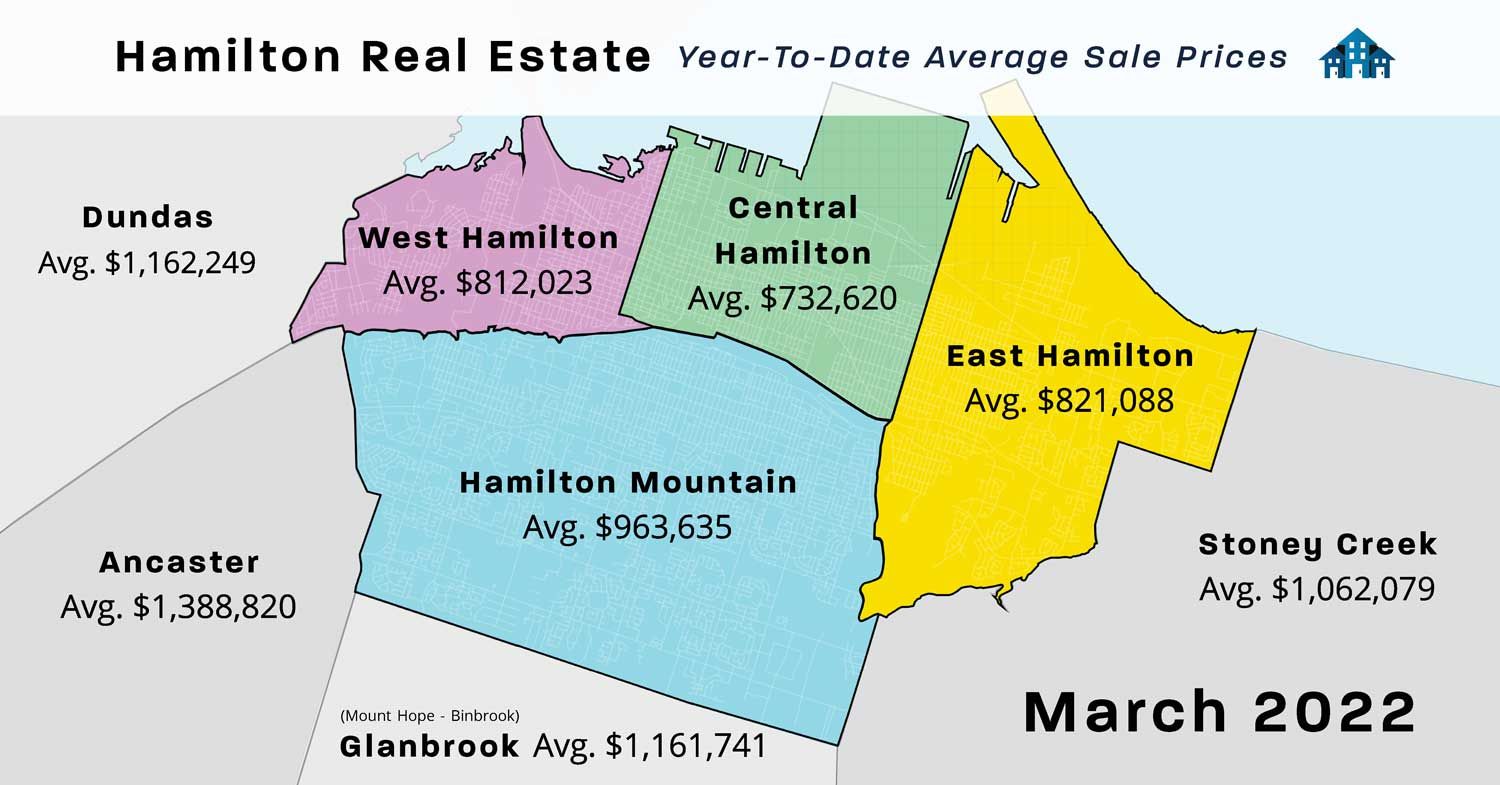 Take note that "Average sale price is based on the total dollar volume of all properties sold through the RAHB MLS® System. Average sale price can be useful in establishing long-term trends, but should not be used as an indicator that specific properties have increased or decreased in value." What that means is, not every house or condo has increased in price by the same percentage. It is really important to talk to an experienced local REALTOR® to see EXACTLY what is happening in your particular neighbourhood. It is also important to find out what you can do to your house to get the highest amount possible when you are ready to sell!
In this Market, it is important that you know about the houses getting listed Immediately! Click Here to get set up on the Instant Listings Notification Search, otherwise, you will only know about listings once they are reported to the public sites. If you wait till you see it on Realtor.ca or other sites, it's too late, and is probably already SOLD!
MLS® Property Listings in March 2022
| RAHB Market Activity | Number Of Sales Mar 2022 | Number of Sales Mar 2021 | Average Sale Price Mar 2022 | Average Sale Price Mar 2021 |
| --- | --- | --- | --- | --- |
| West Hamilton | 82 | 117 | $823,896 | $692,227 |
| East Hamilton | 133 | 147 | $784,621 | $622,815 |
| Central Hamilton | 142 | 156 | $752,412 | $604,966 |
| Hamilton Mountain | 213 | 293 | $968,620 | $737,622 |
| Flamborough | 32 | 39 | $1,664,225 | $1,382,473 |
| Dundas | 36 | 45 | $1,205,944 | $915,220 |
| Ancaster | 77 | 99 | $1,361,621 | $1,135,817 |
| Waterdown | 45 | 82 | $1,267,986 | $973,059 |
| Stoney Creek | 151 | 242 | $1,060,945 | $839,976 |
| Glanbrook | 73 | 83 | $1,149,772 | $910,333 |
| Burlington | 359 | 449 | $1305,593 | $1,090,053 |
| Dunnville | 28 | 28 | $804,780 | $714,393 |
| Cayuga | 6 | 5 | $1,023,944 | $654,640 |
| Caledonia | 33 | 18 | $1,000,232 | $730,328 |
| Hagersville | 8 | 8 | $800,100 | $620,190 |
| Seneca | 3 | 2 | $2,975,250 | $807,500 |
| Rainham | 9 | 6 | $921,975 | $570,650 |
| Grimsby | 80 | 93 | $1,006,741 | $852,526 |
| Smithville | 15 | 17 | $1,048,193 | $837,302 |
| West Lincoln | 4 | 6 | $1,096,000 | $1,022,667 |
Note: Numbers of sales represents sales reported on properties listed on the Multiple Listing Service (MLS®) of the REALTORS Association of Hamilton-Burlington. Average sale price is calculated by dividing the total dollar volume of sales (not shown) by the number of sales in that month.