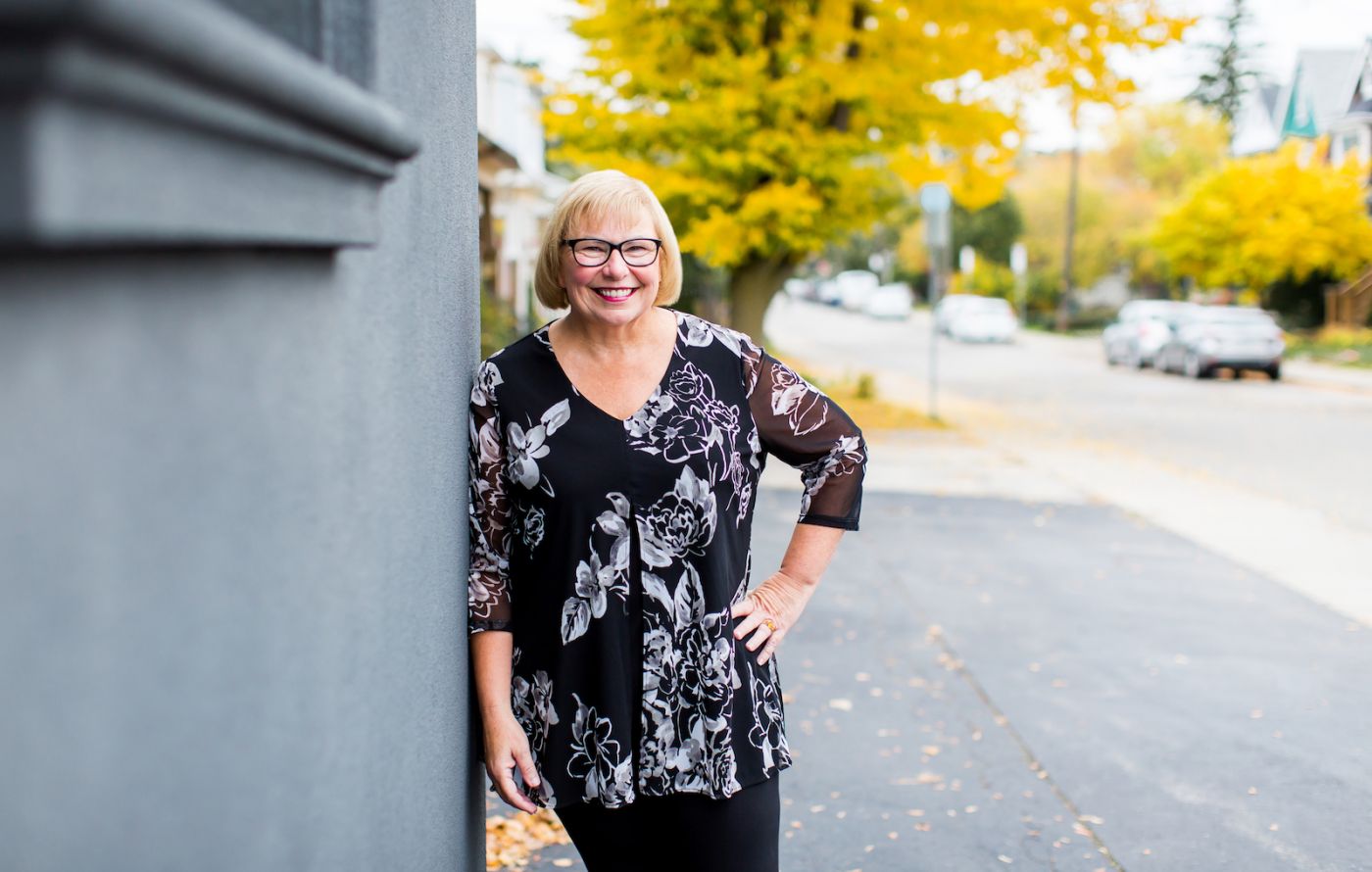 Meet Laura – Hamilton's

Local Realtor®
Laura Doucette is a full-time Realtor® that has been helping people with all their Real Estate needs since 1990. Laura grew up in Westdale, one of the neighbourhoods in West Hamilton near McMaster University and Hospital. She currently lives on what locals call "the Mountain" which is the Escarpment in Hamilton. Laura's passion is helping people create a better life, through Real Estate. She works very hard for her clients and in return is grateful and humbled to be the person her clients come back to as their family Realtor, and who they continue to refer their friends, family and work colleagues.
If you are thinking of making a move to Hamilton or any of the surrounding areas, you definitely want to work with a pro who really knows the area inside and out. You need to know that Laura is known to point out the worst in houses. Her clients often say, jokingly, "Hey Laura, have you LET anyone buy anything lately?" They know she is tough when looking through any potential properties, looking for problems and pitfalls and anything that could become an issue in the future. You want to make sure someone like Laura is looking into the resale value, whether the neighbourhoods are up and coming, school catchments and ratings, and if the home and the neighbourhood are an overall "good fit" for you and your family.
If you are thinking about Selling a House you will want to get an honest, experienced point of view of your home's TRUE Market Value. Laura will give you the whole truth and not just what you want to hear. She is a student of the changing trends and local statistics and can give you a very thorough view of the Current Market. How your property is marketed is extremely important. Social Media is an area Laura excels at in all forms to help your listing get the full exposure it deserves, to sell for top money and in the fastest time possible.
The experience Laura has gained after living in Hamilton her entire life and working Full Time in Real Estate since 1990, is immeasurable. She can tell you about the best neighbourhoods, the up and coming areas and the "not so good" spots to live. Check out the Monthly Statistics Market Reports to get a feel for how much Laura studies the ever-changing market. If you are a first-time buyer, a senior looking to downsize, a growing family, or someone looking to relocate or invest in Hamilton, you want someone who will look out for your best interests. Let Laura teach and guide you for all of your Real Estate needs throughout Hamilton, Ancaster, Dundas, Glanbrook (from Mount Hope to Binbrook), Grimsby, Caledonia, Waterdown, Flamborough and Burlington!
Want an easy conversation starter with Laura? Here are some suggested topics: Grandkids, Sports, Dark Roast Coffee (Ok, ANY Coffee), Social Media, Beaches, Chocolate…and Real Estate! 🙂
Laura Doucette is the BEST realtor on the "face of the earth"!! I have know Laura since 1992 and have experienced her excellent personal and professional expertise many times. Laura has been involved in all the homes I purchased and sold-5 in total. I am not planning to sell again, but if I were to do so, Laura is THE only agent I would use!!! Laura has gone " above and beyond each and every time".Her
knowledge of the real estate business is excellent. I have referred several of my friends to Laura and they have been very satisfied. Laura is a warm, caring, concerned woman and her personal / professional integrity is unquestionable. Moving is one of the most stressful situations…Laura does everything she can to help make it as "stress-free" as possible. 
"We first met Laura at an open house that we pondered through on a Sunday afternoon. From that first meeting, my husband and I felt that Laura was the right person to help us find our first home. Thanks to Laura's professionalism, tips, easy going attitude without any pressure, and willingness to go beyond her job in finding our first home, our family is now settled into our dream home. Thank-you for making our first home purchase such an exciting one!!!!"
"I want to thank you Laura, for your exceptional service and devotion to our needs and interests. You went the extra mile for us and on three particular houses pointed out defects which could have gone unnoticed by us and lead to serious difficulties. It was always a pleasure meeting with you and having the reassurance of your extensive and informed knowledge of the Hamilton area by our side. May your career in Real Estate flourish and expand. You deserve it." 
Helping YOU in Real Estate!
Thank you for everything; your special attention to detail, your knowledge, your expertise, and your help in educating me. You truly do go the extra mile and I appreciate everything you have done to help me make my dream come true!
Thanks again for EVERYTHING, you are a phenomenal realtor and person. We couldn't have done it as seamlessly without you. I will refer you to everyone I know…because the service you provided me goes beyond the call of duty! 
We love our new home! Laura was fantastic every step of the way. Her knowledge of the local market was invaluable, especially since we had never lived in Hamilton before! She was with us every step of the way. Thanks, Laura! 
I would highly recommend Laura Doucette to anyone looking to sell their home. She came on board with us early in the process when we realized it was time to sell our father's house. She took the time and looked at the property and make recommendations about where we would best use our time and money in the staging of the house and spent a lot of time researching similar properties in the area so we could best price the house. Once on the market, we received multiple offers and the house sold quickly and without any hassles. Throughout the entire process, she was always available, knowledgeable, and helpful. We couldn't have got through this without her. If anyone was looking to buy or sell a home I would not hesitate to give them Laura's number. She is a kind, caring person that takes real estate to the next level!
My husband and I tried to sell our house privately first. After over 2 months, we still didn't have any overs and we were getting worried as the fall season approached. We listed with Laura and our house sold after only 2 days!!! Laura handled negotiations with confidence and always made decisions with us and not for us. From the first time we met her and discussed the price, to the day we accepted the offer, she provided us with a number of options and suggestions based on facts. She knew the market and she took her time to make sure we understood too. It was easy to tell she had our best interest in mind during the entire process. Even after the sale, she continues to give us her full attention whenever we have questions. I feel extremely comfortable referring friends and family to Laura. 
I honestly can't recommend Laura Doucette highly enough! When my siblings and I decided to sell our late mother's house, we were immersed in quite a bitter dispute over the settling of the estate, and my sister and I – who were on one side of the dispute – were living out of the province at the time. In addition to these complications, the house had fallen into a horrific state of disrepair and was practically a health hazard just to enter. It was not a recipe for a smooth or successful real estate experience. However, that is exactly what it was. Laura was extremely knowledgeable about the market and the best way to approach the sale. Her strategy to attract the most and the right type of buyers worked like a charm. In the end, we accepted a higher offer than we had anticipated and all of our conditions were met. 
The entire process was surprisingly quick and painless. I found Laura to be extremely professional and committed. She addressed our concerns and answered all of our (often redundant!) questions with patience and respect, and was upbeat and seemingly tireless. She inspired confidence: in Laura's hands, we felt safe, something that cannot be over-valued in our circumstance. She went above and beyond the call of duty in so many ways (she generously gave us advice and helped us months before we even decided to sell the house). 
But most importantly to me, she bridged the gap between the warring factions of siblings. Her empathy, patience, and great people skills allowed her to circumvent the acrimony between us and facilitated compromise and agreement. I seriously think she saved us months of bickering and dithering, not to mention increased lawyers fees! With Laura everybody was happy. The ease with which the sale proceeded was truly a saving grace in the middle of a difficult situation, and for that, I will always be grateful. I highly recommend her!
Susan
"Was like having your best friend beside you during one of the most stressful times in your life." As a military family moving into a new province we were faced with enormous pressure to buy quickly without any knowledge of the city, its neighbourhoods, and its proximity to our lifestyle needs. We had a week to do it and with Laura's unmatched knowledge, persistence, dedication, and her down-to-earth personal approach to her work, by Friday we had our first home. Not only did Laura make time every day for us, but she also took the added time out of her week to give us a deluxe tour of the city, noting all the main freeways, travel routes to work, and points of interest to tie up our downtime. We truly can't say enough about Laura Doucette. She is a unique and rare REALTOR who shows no pressure and only has your best interest in mind. She focuses on the client's needs as opposed to the 'sale' and does so each day with a positive welcoming smile. We wholeheartedly will recommend her to anyone and are pleased our first home experience was completed with such a professional, friendly, and warm-hearted woman. Thanks, Laura! 
Becky
I just want to say a huge thank you for helping us find our forever home. We have the keys now for almost 2 weeks and are excited and busy getting ready to move in. I can't thank you enough for all your guidance and very wise advice during our search. We felt in good hands throughout, your care and humor shone through making the home buying process a pleasant one. And who would have guessed that you would have found us an Irish home!! You are very welcome to call in for a cup of coffee anytime you are passing! Go raibh mile maith agat Laura. Kindest regards. 
Niamh and Mark R.
She knows Hamilton and she knows houses. Her expertise with both was invaluable. She also understood exactly what we were looking for after only a few conversations, and was able to match us up with the perfect house in no time. She's a pleasure to deal with and a great resource. We would heartily recommend her as an agent for anyone looking to buy in the Hamilton area. 
Marilyn and Brian
Sutton Group Innovative Realty Inc., Brokerage
Established in 1990 and under the same leadership and guidance since. With over 70 professionals in the office, it is obvious that this is a strong local company with integrity and a huge commitment to the Real Estate industry and it prides itself on providing friendly, efficient, professional service, using the most up to date groundbreaking technology to help serve you. Sutton Group Innovative Realty specializes in many different avenues of Real Estate including resale homes, new homes, development of land, commercial and investment and who speak many different languages.